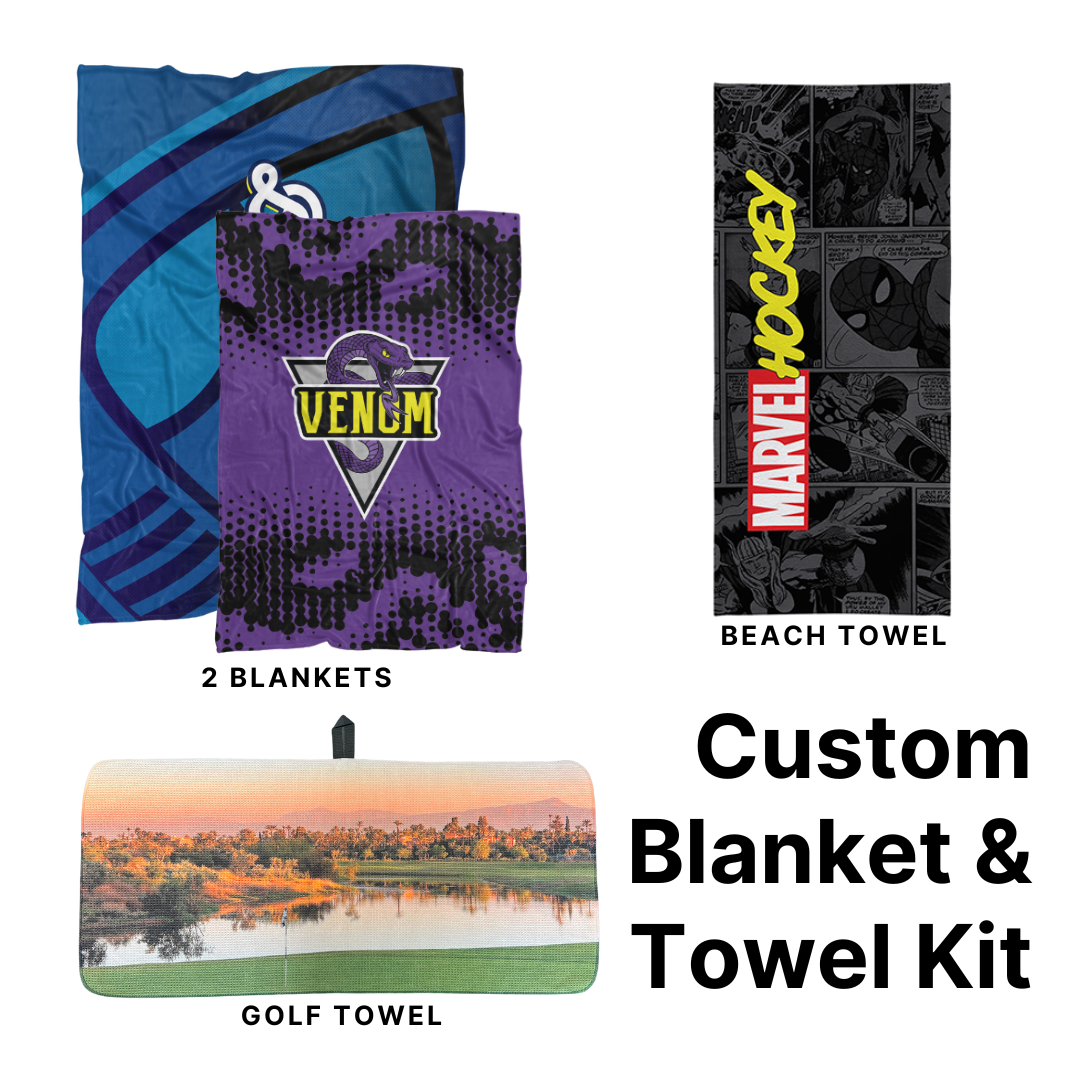 Custom Blanket & Towel Sample Kit
---
Our Custom Blanket & Towel Kit features two sublimated blankets: one measuring 60"x80" and the other measuring 50"x60".  It also includes one sublimated 30"x60" beach towel and one 16.5"x37" golf towel, making it perfect for showing off your brand and displaying it to your clients. You have the option of purchasing the kit with random on hand samples or customize your samples with your own art for $100. Price Includes all setups and free shipping. 
Kit Includes:
50"x60" Sherpa Blanket




60"x80" Fleece Blanket




30"x60" Beach Towel




37" x 16.5" 405 GSM 

Golf Towel



(1) Turnaround Time:
-Two to three (2-3) weeks from the date the order details (such as art, quantities and sizes) are confirmed.
- We can do RUSH orders, anything sooner than two (2) weeks will have a RUSH FEE of +$5.00 per unit.
(2) Art:
- Just send us over the high res files (preferably vectorized) for the logo/design layout/colors/fonts and our team will put together an approval mockup to review.
(3) Need a Mockup? (Mockup turnaround is 24-48 hours):
- Click here to fill out the Mockup Request Form
(4) How to get Distributor Access - See all distributor QTY and Pricing Details:
- Click here to create a Distributor Account
- Create an Account and Password and submit
- Once approved, log out and back in again to receive full Distributor Access
(5) Sample Order Process:
- Use code at checkout: DISTRIBUTORSAMPLE
- This code will give you 40% off the listed sample price.
- Once a Minimum Bulk order is placed, we minus the sample cost you paid from the bulk order invoice.